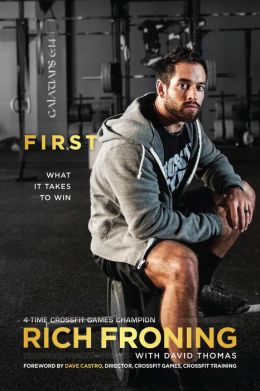 Let me tell you how good Rich Froning is at Crossfit.  If you told a Crossfitter that Michael Jordan was the Rich Froning of basketball during his playing days they would reply, "He was that good?"
Crossfit the sport is spreading across the globe. With entries numbering in the thousands (138,000 this year) for the 2013 Crossfit Games – Crossfit's annual competition to crown the Fittest on Earth – Crossfit is adding members at a rate that would make any new social media company happy.
And the face of Crossfit (at least on the men's side) is Rich Froning. From his devastating loss at the 2010 Games, to his now three-peat reign as champion of the Games, Froning has written what will become an instant bestseller at Boxes (Crossfit gyms) across the US and the world, First: What It Takes to Win
.
Employing an easy and honest writing style, Froning tells engaging stories like growing up with a father who made chores the perfect proving ground for Froning the kid to grow into Froning the Crossfit champion. You try moving hundreds of pounds of cinder blocks from one barn to another and back again and see if a workout like Fran will intimidate you.
Athletic from an early age, Froning includes stories of his sports career and the influences he came across as he grew into the man and competitor he is today. Nothing had a bigger influence on his life than his faith and he talks openly of the struggle he had coming off the infamous "rope-climb" incident that cost him the 2010 Games title.
The rope defined me until God's Word refined me.  And what God's Word has taught me is that the key to truly winning is not to be first.  The key to winning is to put God First.
It was revealing to see Froning grow into his faith (stumbles and all) and connect his Crossfit success and the platform it gave him as an example to others. God may not care how fast you can do a workout of 21-15-9 of thrusters and pull-ups, but if being the best in the world at it gives you a voice that others will listen to that is OK with Froning.
Crossfit members looking for training and diet tips from an elite competitor like Froning won't find them here. While he does talk about his three, four or five workouts a day schedule during his ramp up in volume before the Games and his diet regimen of not having a diet regimen, what works for him probably won't work for anyone else who lacks his unparalleled work ethic and capacity to make his mind overrule his brain.
"First" by Rich Froning is a fun look at the life of a great Crossfit competitor and a first rate man of faith. If you are in to Crossfit, reading about the sport's greatest champion offers a sneak peek behind the myth. If you don't know a burpee from a bumper plate the story of Rich Froning still makes for an quick, entertaining read about a gifted modern-day champion.
---
Disclosure of Material Connection: I received this complimentary copy from Tyndale House Publishers, Inc.  I was not required to write a positive review. The opinions I have expressed are my own. I am disclosing this in accordance with the Federal Trade Commission's 16 CFR, Part 255.
If you enjoyed this post, I'd be very grateful if you'd take a moment and sign up for my newsletter 5 Great Pieces.

Twice a month I'll send you valuable content on nonfiction books, reading lists, organization, productivity and the joy of being an introvert.

Sign up here 5 Great Pieces

Thank you!